Cornerstone NCT and 5 Toes Custom Presents:
2014 Rifle Raffle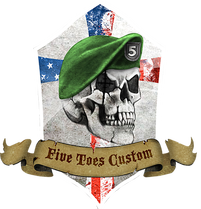 5 Toes Custom is partnering with Cornerstone to create a custom handcrafted rifle for us to raffle. There will be a choice between 3 different rifles, a hunting or tactical rifle without optics, or AR-15 with optics. The gun will not be made until the winner has been drawn so the winner can have input on the design. These tickets will sell fast so you better jump on it quick and order multiple. The person does not have to be present for drawing or to purchase tickets. So tell all of your out-of-town relatives about this awesome event.
Tickets will be $100 each and we are only selling 300 of them!
**All proceeds will benefit Cornerstone and helping more neighbors in need.**
5 Toes Custom is an idea of helping combat wounded vets and giving back to charity by building handcrafted precision rifles. When the founder, John Wayne Walding, lost his leg in Afghanistan, he had trouble trying to find his new "North Star." He found his star through his close friend, David Feherty. It was their love for long-range marksmanship that drove the idea to manufacture the most accurate rifle. John then found a master gunsmith, by the name of Dick Cook, to show him the art of handcrafting rifles. After months of empty Red Bull cans and broken bits Dick was able to teach a not so old dog a new trick.
John built one, two, then ten rifles and realized his new passion in life. But he couldn't just build rifles; he needed something that meant more to him. 5 Toes Custom became a place where combat wounded vets could also come find their North Star. Knowing that there are many other transitioning vets; the decision to give them the opportunity for the same direction was an easy one.
The next step to ensuring something bigger is by giving back to charity. Even though 5 TC is a FOR PROFIT company, they will always give back by donating a portion of profits to deserving charities. For more information visit
www.5toescustom.com
.
---
Ticket purchasing will begin October 15th and end Dec 1st at 11:59 PM.
Drawing will take place on December 2nd at 10 AM.
Ticket purchases can be made online and stubs will be mailed to the address given.
Visit our Facebook page
facebook.com/CNCTRifleRaffle
for updates!
You have your choice between these three different guns. 5 Toes Custom guns are all customized, so the guns will be similar to these pictures but not exactly like past products. The winner will be connected with John Wayne Walding and discussion on gun building and customization will be done through him.